July 9th, 2010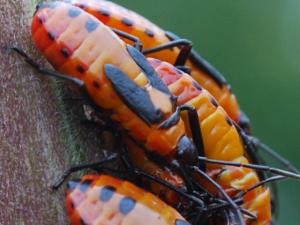 The High Virginia Outdoors website is now up and running. New content is added daily. This website covers outdoors in Appalachia, with a different perspective. Nature,Photography,Tourism,History and Outdoor Recreation. My sites are now: www.highvirginiaoutdoors.com & highvirginiaimages.com I hope that you bookmark them and visit often. Please leave comments. Thank you. RANDY BODKINS
July 2nd, 2010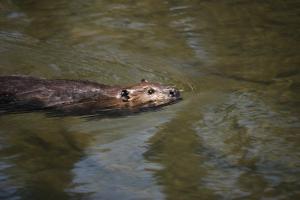 Yesterday was one of those downer days. Nothing was going right. I decided to stop by the river and stare into the water for awhile. And I actually took my camera with me. the wind was blowing and the sun was beating down pretty hard in the early afternoon. Tried to take a couple of flower shots, but the wind was too much. The ripples created by the wind made it difficult to see any fish.

I heard a click on the rocks a few yards upstream. I expected to see a deer, but couldn't locate anything. Then; a rather large beaver swam by. He went around a little bend in the streambank. I actually took the time to set the WB and put on a polarizer, while waiting for the beaver to come back.. He actually did and I got some rather good shots.

In one, he was actually raising his tail to slap the water. I got the curved tail raising, but have to admit that I flinched real bad when the tail slapped the water..I got wet too. Needless to say that picture didn't come out too good.

I did get some shots and it did make me feel a little better..Overall a positive in an otherwise negative day.


June 29th, 2010
How many times have you not followed the number one photography rule: Always Have Your Camera...? I stopped by the local river today, on the way back from work. I am working with the WV Division of Natural Resources on the 09-14 statewide breeding bird survey and wanted to try to confirm the nesting of mallards or yellow warblers at the area. I was standing on the RR trestle, there wasn't much going on. A couple of small bass and blurgills were swimming around and there were a couple of cedar waxwings catching flying insects. I looked under the trestle, about 8 feet straight down. There was a female mink with four young curled up asleep on the end of a log. Of course, I had binoculars in my hand and no camera...How many times will this photo opportunity present its self again? NEVER.....
June 21st, 2010
I had a pair of Tree Swallows nesting in a box this year. They raised 3 young. Two of the young were obviously larger than the other. The largest came out to test its wings on 6/18. The second one came out on the 19th. Both of them flew around most of the day on the 19th.The little one hung out of the box and watched. The adults made them go back into the box on the evening of the 19th. On the 20th , the little one ventured out and all 5 left the area.

The entire family waited for the weakest individual to grow enough to join them before flying away. I always look forward to my Tree Swallows return in the Spring. The day that they leave the nesting box is the last time that I will see Tree Swallows on my property; until next April. Soon, they will be on their way to the Amazon Basin, but I know that I will have a pair back here nesting in the Spring. I guess that Tree Swallows hate Summer in WV, just like me.

I will probably clean out their box tomorrow. It is always interesting to see what materials they chose to use this year. It is always a different combination of feathers and weeds. There is usually alot of goose down used. On a couple of occasions, I have thrown turkey breast feathers up in the air and the swallows have caught them to use for construction.

When they return next spring, the box will be clean,bleached and ready.
June 20th, 2010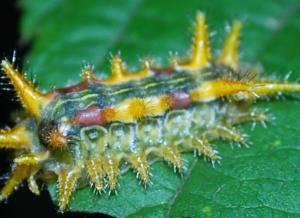 I had never seen one of these, until last summer. I just happened to notice it on a Blackberry plant. Don't get scared: it is actually about 1/2 of an inch long. The Spiny Oak-Slug (Euclea delphinii) is a caterpillar with extremely variable color patterns ranging from tan to red and greens. They look dangerous, but their sting is mild compared to the Saddleback caterpillar. the next time you are out, take a closer look. You never know what you'll find.
June 11th, 2010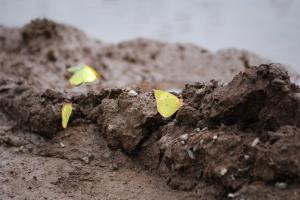 Butterflies are easy; right? That's what alot of people will lead you to believe. NOTHING in the real world, which is weak and fragile is easy to capture under real conditions.

I was driving down a country road today, meadows on both sides, and noticed several Sulfurs. They didn't quite look right; so I stopped. I took a quick glance at a mud puddle and knew they were special. I had never seen a butterfly with green eyes and pink edging. So, I'm crawling around on hands and knees over 2 inch thistle plants, the wind is howling across the meadows. I managed to get a couple of decent images, but when I down-loaded, this one seemed to be worth sharing.. Not a quality shot, but interesting for sure.
It Ain't Easy.....Unless you have time to pick and choose. But most of us do not have that luxury.
June 6th, 2010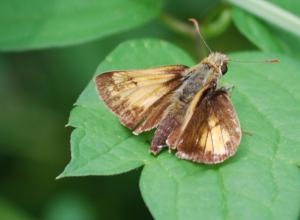 Do you think that it is easy to create a collection of butterfly photos; in the real world? Try to do it and you will experience both the joy of adding new species and the sorrow of missed opportunities. I was working in my garden yesterday and a Black Swallowtail made an appearence. I did not have a photo of this species. So: drop everthing, run into the house, get camera, return and try to find the butterfly again. Simple process right? Get camera, set WB, find subject..Simple. REAL WORLD. Return, find butterfly, set WB, butterfly is flying above the garden and is captured in mid-air flight by your camera. NOPE: It is eaten by a Catbird.

Drop your head, return to the house.. Notice something on the hairy vetch, take a photo, go to the guide book to ID. You now are the proud owner of a Hobomok Skipper image. You have now captured an image of something that you didn't even know existed 10 minutes ago.. Welcome to the world of natural photography in the Real World..






May 31st, 2010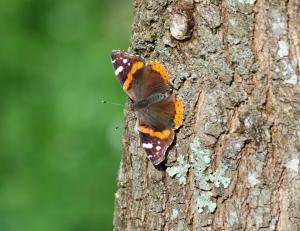 The Red Admiral (Vanessa atalanta rubria) is an early migrant in my region of Appalachia. It can be found in April and is an erratic flier. It is a butterfly of woodland edges. The adults prefer to feed on rotting fruit and sap flows. The preferred larval host plants are members of the nettle family (Urtica).

In the month of April, 2010; I spent quite a few minutes trying to get a good photo of the Red Admiral, or even a bad one; with no success. The are so erratic that it is very difficult to get focused. When they leave, they don't just fly a few feet; they often move thirty or more yards. By the time you manage to catch up to the individual butterfly, you tend to be breathing so hard that image stabilization is of no use. Tripod? Yeah, right. Try it.

I was driving down a barely tolerable country road in the Becky's Creek Wildlife Management Area at mid-morning and just happened to see this particular butterfly resting on the side of a tree. I quickly found my camera bag somehere behind my seat. I turned on the camera and zoomed in to 200mm. I walked toward the butterfly, taking shots; every couple of steps. This is the final image, before the butterfly rapidly flew away, never to be seen again. Sometimes you just get lucky.